Roger J. Poff
R.J. Poff & Associates
P.O. Box 2073
Nevada City, CA  95959
Phone:   (530) 273-1709
Mobile:   (530) 559-9669
E-Mail:   roger.poff@icloud.com
R. J. Poff and Associates provides consulting services in soil and watershed management.
Roger Poff, principal soil scientist, has a BS in agriculture and soil science from the University of Wisconsin — River Falls and did graduate work in soil science at the University of Minnesota.  He also attended the NRCS soil science institute at Iowa State University.
Mr. Poff began his professional career mapping soils in Minnesota. For five years he was a soil survey party chief in South Dakota, and also taught soils at South Dakota State University.  For 25 years he was a soil scientist for the U.S. Forest Service in Montana and California.   While with the Forest Service, Mr. Poff completed hundreds of project investigations related to soil and watershed management, conducted soil surveys, and conducted numerous field workshops.  He served as forest soil scientist, a watershed management program leader, land management planner, and Range, Wildlife, and Watershed Staff Officer, and as Zone Soil Scientist for the Tahoe, Eldorado, Plumas, and Lake Tahoe Basin National Forests.
Since its establishment in 1992, R.J. Poff & Associates has completed more than 135 projects for dozens of clients throughout northern and southern California, as well as in Arizona, Nevada, Texas, Arkansas and Washington.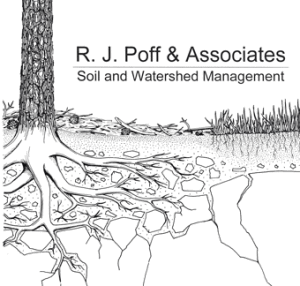 Certifications : Certified Professional Soil Scientist (ARCPACS), Registered Professional Forester (CA Board of Forestry), Certified Erosion & Sediment Control Specialist (EnviroCert), Certified Professional in Storm Water Quality (EnviroCert).
Specialties : Recreation Trails and Off-Highway Vehicle Management, Lake Tahoe Basin Land Classification, Wetlands, Archival Air Photo Interpretation, Erosion and Sediment Control, Soil and Watershed Restoration, and Expert Testimony.