Download a PDF version of the Meeting's Guidebook (20MB)
The Professional Soil Scientists Association of California had a great March 1-3, 2018 Annual Meeting and Field Tour. The meeting's goals were to provide opportunities to interact with colleagues and students while engaging with diverse and interesting soils!
The meeting was based out of Chico, California, and focused on soils, students, and building community. Nearly 100 people representing the soil science community came together to talk about upcoming projects, shared goals, and the future. The meeting included a technical meeting, a healthy dose of exploring soils and land use in the field, and interacting with university students interested in soil and land judging (aka the future of our profession).
The meeting started off on Thursday, March 1st with a USDA Natural Resources Conservation Service (NRCS) Cooperator's Roundtable that was held on the CSU Chico campus. On Friday, March 2nd there was a co-hosted field tour (CSU Chico Soils + Professional Soil Scientists Association of California + NRCS) exploring the former Cherokee Mine, Cherokee Strip (anthropogenic mudflows from placer gold and diamond mining in Butte County), and various associated soils. A group dinner with guest speakers was held that evening. The meeting wrapped up on Saturday with the California Collegiate soil/land judging event held at Butte College. Meeting participants helped facilitate the event and mentor the students.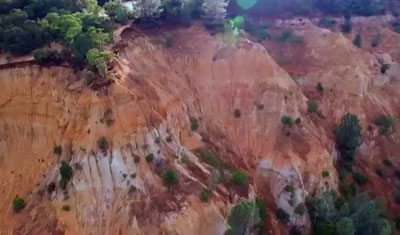 Garrett Liles, David Kelley, Joel Butterworth, Meagan Hynes & Mary Reed, Organizing Committee