June 12-16, 2023
The Professional Soil Scientists Association of California (PSSAC) invites you to join us for a once-in-a-lifetime opportunity to take an in-depth look at Santa Cruz Island. Space is very limited so be sure to register early.
NOTE: Heavy winter rains washed out some of the roads on Santa Cruz Island, so we have had to reschedule the meeting to June 12-16, 2023. Due to registration conflicts, we now have a few additional spaces available, and we hope you can join us for this remarkable meeting opportunity. Please let your friends and colleagues know about this field meeting.
Quick Jump to:
Meeting Schedule
Meeting Brochure (PDF)
Meeting's Guest Experts
Register Online
Student Scholarships
Meeting FAQs
---
Field Meeting at Santa Cruz Island: A Unique Opportunity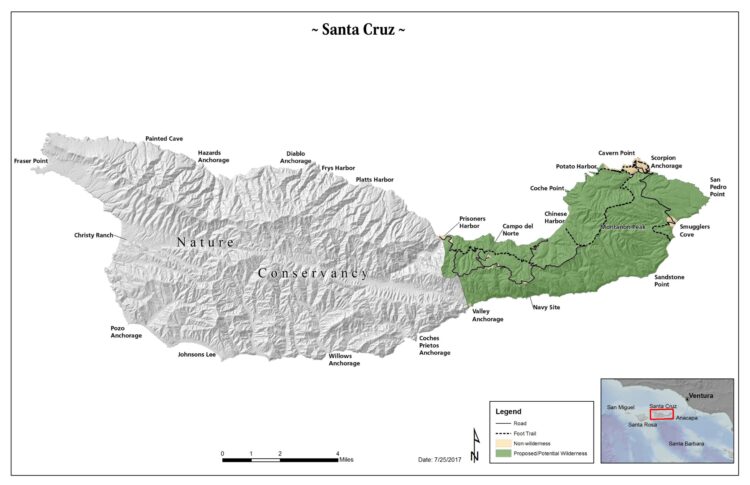 We are excited to again accept registrations for PSSAC's June 12-16, 2023 field meeting on Santa Cruz Island!
This field meeting will provide a rare opportunity to visit Santa Cruz Island, a remnant of prehistoric coastal southern California isolated off Santa Barbara. Santa Cruz Island features some of the most southwestward positioned subaerial geologic outcrops of the North American landmass where a significant body of geologic research has been done from late Quaternary sea-level and climate changes to the tectonic evolution of the western North American plate boundary. A detailed soil survey of the Channel Islands was completed in the early 2000s. We will experience the island's natural beauty with focus on exploring its geology, geomorphology, and soils, and we'll dig some into cultural history, archeology, and accelerated geomorphic processes and erosion resulting from human land use. The meeting is designed to mesh with the mission of the University of California Reserve System. We plan to observe and discuss past and present research projects and mapping activities and contribute to the increased understanding and wise stewardship of the island's soils, vegetation, and cultural resources.
Many of the field stops will take us to areas closed to public access and difficult to reach. A few stops are within Channel Islands National Park on the eastern side of SCI, but most fall within the 76 percent of the island owned and managed by The Nature Conservancy. This five-day trip requires 4WD vehicles and includes a few 0.4-to-2.4-kilometer (~0.25 to 1.50 mile) hikes.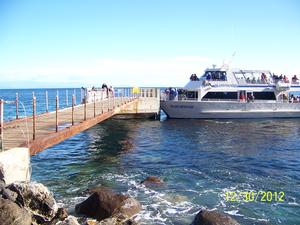 Day 1 includes transportation to Santa Cruz Island from Ventura via the Island Packers Ferry. Upon arrival at the island, Santa Cruz Island Reserve staff will transport us and our gear to the University of California Field Station. After organizational details and eating self-provided lunches, there will be an introductory overview of the island, and a field stop.
Days 2, 3, and 4 will each begin with technical talks at the UC Reserve before we head out at about mid-morning to visit field stops. We will traverse over much of the island on these three days. We will visit field stops along the Southern Ridge in the central portion of the island dominated by schist geology and scenic viewpoints. We will travel east into National Park lands where will view and discuss Monterey shale and Santa Cruz Island volcanics geology and related soils and land use.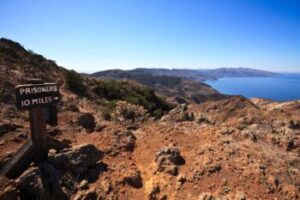 We will travel out to the western side of the island where geomorphology, stratigraphy and archaeology from late Pleistocene through the Holocene are evident. We will discuss soil survey information and visit soil pits, see and discuss the Santa Cruz Island fault in several places, marine terraces, grazing impacts, accelerated geomorphic processes, ecological restoration efforts, and more.
On Day 5, the group will convene for closing discussions and Q&A. Then all will participate in cleaning the UC Field Station, packing up trash to be hauled out, and packing up personal gear before traveling to Prisoner's Harbor, for a final field stop at a wetland restoration project. A sack lunch will be provided. The Island Packers Ferry returns us to Ventura Harbor by about 5:00 pm that afternoon.
---
Guest Experts. We are pleased to welcome the following individuals who will share their in-depth expertise during our visit to Santa Cruz Island:
Nicolas Pinter, PhD. Shlemon Professor of Applied Geosciences and Associate Director of the Center for Watershed Sciences at the University of California, Davis.
Eleanor Fishburn (née Arellanes). Chairwoman of the Barbareño Band of Chumash Indians and their cultural representative.
Brian Holguin. Archeologist PhD candidate at UCLA will lead discussions about archeological research at a field stop and give a technical talk about the early years of archaeology on SCI.
2023 Santa Cruz Island Planning Team. PSSAC thanks its entire Board of Directors and Meeting Planning Team: Dave Smith (President), Rachel Kozloski (Past-President-2022), David Kelley (President-elect), Phil Smith (Past-Past President), Bryan Rahn (Secretary Treasurer), John Munn (Northern Area Director), Kerry Arroues (Central Area Director), Roy Shlemon, PhD (Southern Area Director), Phil Smith (Past-President-2021), Jay Reti, PhD (Santa Cruz Island Reserve Director), Nicholas Pinter, PhD (UC Davis), Ben Faber (UCCE), Joel Butterworth (PSSAC Past-President-2020), and Mary Reed (PSSAC Executive Secretary)
Santa Cruz Island Reserve Rules/Disclaimers. Participants are required to sign a Biosecurity and Code of Conduct Agreement as well as photo and liability Waivers. No animals, no firearms, and no smoking or vaping will be allowed at the Reserve. See: https://santacruz.nrs.ucsb.edu/apply-and-reserve-visit
---
Registering for the Meeting and Important Details
The registration fees for this amazing meeting include: Round trip Island Packers Ferry transportation to the island, parking at the Ventura Ferry Terminal, a sleeping space (see options below) for four nights, twelve gourmet meals by Gabrielle's Kitchen (including dinner on Day 1; breakfast, lunch and dinner on Days 2-4; and breakfast and lunch on Day 5), expert guest speakers, on-island transportation, a reusable PSSAC water bottle, and a printed spiral-bound meeting guide book. (You will need to bring your own sleeping bag, pillow, towels, personal items, and ALSO a tent if that is your sleeping option.) Note: you will need to provide your own breakfast and lunch on Day 1, and dinner on Day 5.
Please note that registration for this meeting is very restricted due to limited toilet and shower facilities at the UC Santa Cruz Island Reserve Field Station, and potable water must be conserved.
Important Notes: 1) Please enclose your deposit check for $950 to reserve your space. If you prefer to use your PayPal account, click the PayPal link below. There will be a $30 processing fee to cover PayPal's charges. 2) Registrations AND sleeping assignments will be made on a first-come/first-reserved basis, with PSSAC's Meeting Planning Team reserving the right to adjust sleeping assignments for special circumstances. 3) After sleeping assignments are finalized, we will invoice you for the remaining balance of your required registration fee. 4) If more registrations are received than there is available space, a wait list will be created. 5) This very special Field Meeting includes rustic/remote accommodations, and transportation and hiking distances to soil pits and other field stops may be substantial, crossing over uneven terrain.
---
There are Three Registration Options
Private Room with Double or Queen Bed (very limited). [Registration is $1125 per person.]
Bunk Rooms with limited upper and lower bunks. There are five bunk rooms, each room has between 2-6 bunks each. [Registration is $975 per person.]
Tent set-up Space (bring your own tent). [Registration is $950 per person.]
---
To Register for the Meeting:
(please register on or before May 22, 2023)
The initial DEPOSIT for all sleeping options is $950 (less any applicable discounts), and participants will be invoiced for any remainder due, depending upon the sleeping assignment. Registrations for this very limited space meeting will be processed on a first-come/first reserved basis. A wait list for this meeting will be created (based upon USPS date stamp/PayPal payment date stamp) if needed.
Complete the registration form on the meeting's brochure (PDF), and return with your deposit check. Mail your registration form and check (payable to PSSAC) to: P.O. Box 5972; Vacaville, CA 95696.
OR – You have the option of paying your registration deposit of $950 (plus a $30 PayPal fee) using your PayPal account using the Add to Cart button below. When registering via PayPal, please BE SURE to email info@pssac.org with your name, business, address, city/state/zip, cell phone, preferred email address, your lodging preference, and any dietary requests!
---
PSSAC Professional Member Discount. Professional Members whose PSSAC dues are current (with no lapsed payments) may deduct $100 from their DEPOSIT amount if paying by check.  (If payment is made by PayPal, please email info@pssac.org to request your $100 "PSSAC Professional Member" refund.)
Island Packers Seniors' Discount. Participants 55 years or older may deduct $5 from their DEPOSIT amount
if paying by check. (Again, if paying by PayPal, please email info@pssac.org to request your $5 refund.)
Cancellations/Refunds.  Please note that cancellations will NOT be refunded after March 1, 2023; cancellation refunds requested prior to 3/1/23 will be subject to a $50 processing fee.
PSSAC's Board of Directors and Planning Team is very excited about this unique opportunity to visit Santa Cruz Island and look forward to seeing many of you there!
---
5/10/23 NEW University Student Opportunity
TWO (only) discounted meeting registrations NOW available!
PSSAC recently received a generous scholarship contribution and we are utilizing those funds to make available two registration spaces to attend the Santa Cruz Island meeting for the discounted amount of $600. First paid, first registered. Use the PayPal button below, and be sure to email "info@pssac.org" using your academic email address with your registration information: Name, permanent address, city/state/zip, cell phone, your permanent email address, and the university in which you are currently enrolled. If this information is NOT PROVIDED within 24 hours of receipt of your PayPal payment, then your PayPal account will be refunded and the opportunity will be offered to another student. Thank You!


---
Please Note: ALL FULL SCHOLARSHIP REGISTRATION OPPORTUNITIES FOR THIS MEETING HAVE BEEN AWARDED AND STUDENTS HAVE BEEN CONFIRMED FOR THE NEW DATES.
SCHOLARSHIP OPPORTUNITY
FOR PSSAC'S 2023 SANTA CRUZ ISLAND MEETING
(scholarship program for this meeting was revised 2/15/23)
Four "tent" registrations, each valued in the amount of $850, will be offered as scholarships to current university students interested in attending this meeting. With these scholarship discounts, four students will be able to attend this meeting for an out-of-pocket registration fee of only $100!
The students selected to receive the scholarships will receive an emailed notification of selection, that will also include a PayPal payment link to pay their meeting registration deposit in the amount of $100. After the end of the meeting, PSSAC's Board has voted that the $100 deposit will be refunded to the students' PalPal accounts after attendance at the meeting, to help students with their cost of traveling to the meeting.
Applications will be evaluated by a scholarship review team, utilizing information provided by the applicants. Interested students should email the following scholarship application information to info@pssac.org no later than March 3, 2023. Selected scholarship recipients will be notified no later than March 17, 2023.
Selected Scholarship Students, please use this button to submit your $100 registration fee, to be refunded after attendance at the meeting!
Scholarship Application Requirements:
1. Name
2. Mailing Address (permanent)
3. University Currently Enrolled AND Student's University email address
4. Non-University Email Address
5. Academic Standing/Year
6. Planned Major
7. 3-4 Paragraph "Interest" Statement including the following information: a) how student became interested in soil science and related subjects; b) what classes they have taken relative to that interest; c) how they have been inspired/encouraged by this field of study; and d) describe their career intentions after graduation.
8. Brief description of the student's financial need.
9. Additional email from one natural resources professor in support of the student's application for a scholarship. (Faculty email of support should be sent directly to: info@pssac.org no later than March 10, 2023.)
QUESTIONS? Email info@pssac.org
---
Meeting FAQs. (Frequently Asked Questions)
UC Acknowledgement/Release/Indemnification Waiver. Each participant with be required to sign a University of California Acknowledgement/Release/Indemnification form prior to arrival on Santa Cruz Island.
Meals. Twelve gourmet meals, catered by Gabrielle's Kitchen, are included in the registration price. These include dinner on Day 1, breakfasts, lunches and dinners on Days 2-4, and breakfast and lunch on Day 5. Participants will need to provide their own breakfast and lunch on Day 1, and their own dinner on Day 5.
PSSAC Professional Member Discounts. PSSAC Professional Members whose dues

are current can provide their Professional Member Number, and receive a $100 discount on their meeting fees.

55+ Island Packers Ferry Round Trip Discount. Island Packers Ferry offers a $5 discount to all riders 55 and older. We are passing along this savings to you. Simply note that you are 55+ on your registration form and deduct $5 from your meeting fee.
Ventura Lodging. If you are planning to stay in Ventura before or after the meeting, here are some lodging options: 
Crystal Lodge Motel (7.9 average rating from 919 people)
Address: 1787 E Thompson Blvd, Ventura, CA 93001
Phone: (805) 648-2272|
Clocktower Inn (7.5 from 409 people)
Address: 181 E Santa Clara St, Ventura, CA 93001
Phone: (805) 652-0141
Other higher-priced ($30 to $60 more) options include:
Holiday Inn Express (7.7 from 891 people) — located very near the Harbor
Address: 1080 Navigator Dr, Ventura, CA 93001
Phone: (805) 856-9533
Comfort Inn & Suites (7.7 from 310 people)
Address: 2094 E Harbor Blvd, Ventura, CA 93001
Phone: (805) 350-7192
Four Points Sheraton (7.5 from 405 people) — located very near the Harbor
Address: 1050 Schooner Dr, Ventura, CA 93001
Phone: (805) 658-1212
Ventura Harbor and Island Packers Ferry.

Your registration fee includes travel to Santa Cruz Island via Island Packers Ferry. It also includes parking at the Island Packers Ferry terminal parking lot during the meeting. The ferry departs the terminal promptly at 9:00 am, and Island Packer's REQUIRES all passengers to be at the dock NO LATER than 8:00 am. Be sure to allow yourself plenty of time for parking your vehicle, checking in the with meeting team and getting your ferry ticket, and then loading your personal gear onto the ferry.

Sleeping Options. There are a very limited number of private rooms (with double or queen beds); five rooms with various numbers of bunk beds in them, and a large flat outdoor area suitable for tents. (Link to a UCSB document that has photos of some of the rooms.) When submitting your registration form for the meeting indicate your preferred sleeping option. The sleeping spaces will be assigned on a first come/first reserved basis, but the planning team reserves the option to adjust assigned sleeping areas for special circumstances.
Gear. Participants need to provide their own sleeping bags, pillows, towels, soaps, shampoos and other personal clothing and gear.
Water Conservation.  There is limited potable water available on the island. Please plan to take short, infrequent showers and conserve water whenever possible. 

Field Travel.

Transportation to most of the field stops will be via 4WD Truck traveling on dirt/gravel roads, and then the group will hike a distance from the road to view the designated area of interest. There are almost NO public restrooms available on the island, but the group will bring a Luggable Loo and hand sanitizer for use as needed.

CEUs (Continuing Education Units). PSSAC's Santa Cruz Island field meeting has been approved by the SSSA for 17 Soil & Water Management CEUs, and 16 Professional Management CEUs. Attendees should follow the instructions at this link to apply for their CEUs.